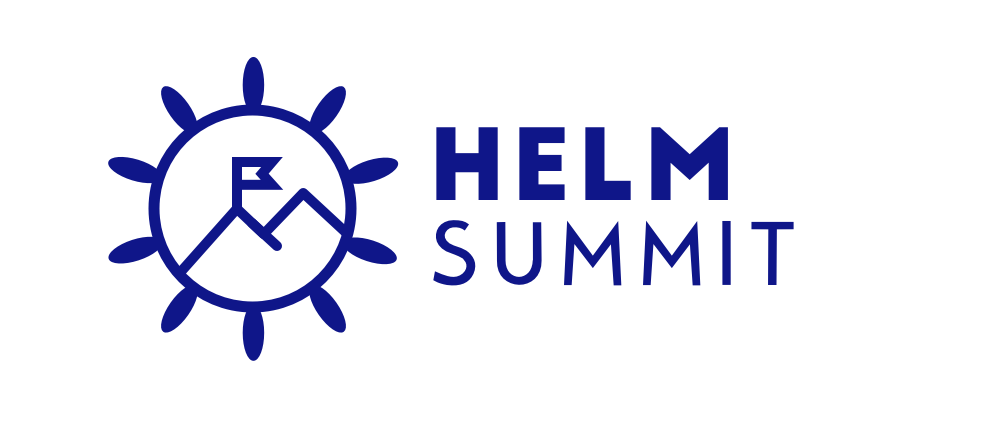 The CFP for Helm Summit 2019 is now closed. The schedule will be announced on July 17, 2019. See below for details.
Dates to Remember
CFP Opens: Wednesday, April 17
CFP Closes: Friday, May 31
CFP Notifications: Monday, July 15
Schedule Announcement: Wednesday, July 17
Event Dates: September 11–12, 2019
Session Types
You will need to choose a session type when submitting:
5-minute Lightning Talk
25-minute Presentation
60-minute Tutorial
Sample Abstract
This is your chance to *sell* your talk to the program committee, so do your best to highlight the problem/contribution/work that you are addressing in your presentation. The technical details are still important, but the relevance of what you are presenting will help the program committee during the selection process.
This is the abstract that will be posted on the website schedule, so please ensure that it is in complete sentences (and not just bullet points) and that it is written in the third person (use your name instead of I).
Example: Kernel Weather Report (Jon Corbet, LWN.net) – The Linux kernel is at the core of any Linux system; the performance and capabilities of the kernel will, in the end, place an upper bound on what the system can do as a whole. In this presentation, Jon Corbet will review recent events in the kernel development community, discuss the current state of the kernel, the challenges it faces, and look forward to how the kernel may address those challenges.
Audience – Describe who the audience is and what you expect them to gain from your presentation.
Example: Kernel Weather Report (Jon Corbet, LWN.net) – The audience is anyone interested in Linux kernel development. Attendees can expect a detailed update on the upcoming kernel release, including recent release history, highlighted features, active employer statistics and much more.
Benefits to the Ecosystem – Tell us how the content of your presentation will help better the ecosystem.
We realize that this can be a difficult question to answer, but as with the abstract, the relevance of your presentation is just as important as the content.
Example: Kernel Weather Report (Jon Corbet, LWN.net) – This presentation will help existing and new kernel developers better understand the state of the Linux kernel and will hopefully encourage them, and the companies that they work for, to participate more in upstream kernel development.
Experience Level – Select the experience level (Beginner, Intermediate, Advanced, Any) of those who should attend this session.
First Time Submitting? Don't Feel Intimidated
Cloud Native Computing Foundation events are an excellent way to get to know the community and share your ideas and the work that you are doing and we strongly encourage first-time speakers to submit talks for our events. In the instance that you aren't sure about your abstract, reach out to us and we will be more than happy to work with you on your proposal.
How To Give a Great Tech Talk
In the instance that your talk is accepted, we want to make sure that you give the best presentation possible. To do this, we enlisted the help of seasoned conference speaker Josh Berkus who has prepared an in-depth tutorial on "How to Give a Great Tech Talk".
Part 1: http://www.youtube.com/watch?v=iE9y3gyF8Kw
Part 2: http://www.youtube.com/watch?v=gcOP4WQfJl4
Suggested topics for submissions are listed below but please feel free to submit anything that you feel might be relevant and helpful for the Helm community. 
• In Production / User Stories
• Helm
· Best Practices
· Security/RBAC
• Charts
• Chart Repositories
· Hosting your own chart repositories
• Working in Teams/Orgs
• Helm Ecosystem Projects or Helm Subprojects
· Monocular / Helm Hub
· Chart Museum
· Helm Plugins
• Building Plugins / Plugin Examples
• Continuous Delivery Using Helm
• Thing's you'd like to see in Helm / Roadmap items
· These would be best in the form of Lightning Talks
Reminder: This is a community conference — so let's try to avoid product and/or vendor sales pitches.
Important Notes
All speakers are required to adhere to our Code of Conduct. We also highly recommend that speakers take our online Inclusive Speaker Orientation Course.
Tutorial submissions must include the names of all participants in the initial submission to be considered. In addition, The Cloud Native Computing Foundation does not accept submissions that have three or more speakers that are all men in an effort to increase speaker diversity. If you have three or more speakers, at least one must be a woman.
Complimentary Passes For Speakers – All speakers will receive complimentary registration to speak at the event.
Avoid sales or marketing pitches and discussing unlicensed or potentially closed-source technologies when preparing your proposal; these talks are almost always rejected due to the fact that they take away from the integrity of our events, and are rarely well-received by conference attendees
All accepted speakers are required to submit their slides two-weeks prior to the event
Preparing To Submit Your Proposal
While it is not our intention to provide you with strict instructions on how to prepare your proposal, we hope you will take a moment to review the following guidelines that we have put together to help you prepare the best submission possible. To get started, here are three things that you should consider before submitting your proposal:
What are you hoping to get from your presentation?
What do you expect the audience to gain from your presentation?
How will your presentation help better the ecosystem?
There are plenty of ways to give a presentation about projects and technologies without focusing on company-specific efforts. Remember the things to consider that we mentioned above when writing your proposal and think of ways to make it interesting for attendees while still letting you share your experiences, educate the community about an issue, or generate interest in a project.
Stay Connected With Our Newsletter
Sign up to be kept up-to-date on the latest developments around KubeCon + CloudNativeCon, like keynote announcements, important schedule and event notifications, exclusive offsite activities, and more.