Half Moon Bay – An incredibly beautiful coastal town notable for the Mavericks surf contest with waves can be as high as 50 feet, the Pumpkin Festival (the Giant Pumpkin Weigh-Off is taken very seriously), and prohibition-era illegal rum-running thanks to dense fog and hidden coves, Half Moon Bay has a rich history and well-loved modern-day traditions.
This quaint town offers fresh produce stands, horseback riding, beautiful teak furniture, metal sculptures (who doesn't like a Dino photo opp?), beaches, whale watching, golf and wine tasting all along its stretches of highway (just to name a few things). The historic downtown provides visitors with an array of cuisines, charming shops, idyllic Inns and unique landmarks.
Whether you just feel like kicking back and listening to live music at The Half Moon Bay Brewing Company or taking an ocean view filled walk on the Coastside Trail, Half Moon Bay won't disappoint. We look forward to seeing you there!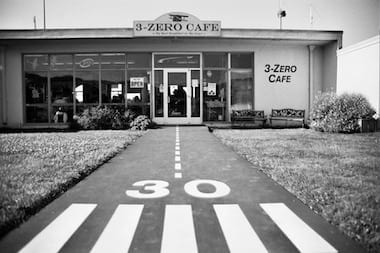 Have breakfast at a locals spot while watching small planes take off and land at Half Moon Bay Airport.