November 18 – 21 | San Diego Convention Center, San Diego, CA | #KubeCon #CloudNativeCon
Looking for something to do upon arrival in San Diego? Join other attendees at our informal (and no-host) Dine-up Meet-ups at restaurants near the convention center. Restaurants are open outside hours listed below and discounts will be honored outside these times as well.
A few tables will be reserved for those wearing their event badge or able to show their event confirmation email and you'll also receive 15% off your total bill (not applicable to happy hour offers). Bonus: Karaoke starts at 8:00 PM so don't be shy to show off your vocal prowess!
If you chose to forego a co-located event or just got into town, these restaurants are next door to one another and will be catering to the KubeCon + CloudNativeCon crowd and offering 10% off your total bill. Don't hesitate to go meet up and get to know someone new in the community!
The New Stack Pancake Breakfast

Date: Tuesday, November 19
Time: 7:30 AM – 8:45 AM
Location: Room 2 at SDCC
The reports are in — Kubernetes and cloud-native technologies open the attack surface far and wide. Come have a short stack with The New Stack for a Q&A with our expert panelists about the issues and options for managing security in cloud native workloads. Prevent attacks and enjoy some pancakes!
Get ready for your close up!
We are proud to offer a limited number of complimentary headshots to attendees that are looking to spruce up their resume or LinkedIn profile. A reservation is required.
Thank you to our sponsor!
Taco Tuesday Welcome Reception + Sponsor Booth Crawl
Date: Tuesday, November 19
Time: 6:40 PM – 8:40 PM
Location: Sponsor Showcase – Sails Pavilion + Hall 6AB at SDCC
Holy guacamole – this may turn out to be the most specTACOlar booth crawl yet! Don't miss a night of fun and games with new and old friends, sponsor conversations, and entertainment all while enjoying fantasTACO south of the border favorites.
Thank you to our sponsor!
The New Stack Pancake Breakfast
Date: Wednesday, November 20
Time: 7:30 AM – 8:45 AM
Location: Room 2 at SDCC
It's time for pancakes in San Diego! Come have a short stack with The New Stack for a Q&A with our expert panelists about the issues and options for managing identity in service mesh environments. Cloud native security and how it affects the pace of enterprise adoption will be the mainstay of our conversation for this latest stop on the pancake breakfast circuit.
Date: Wednesday, November 20
Time: 6:00 PM – 9:00 PM
Location: Gaslamp Quarter
Join the whole crew for the block party of the year (name badge required to attend)! Cap off an amazing week at KubeCon + CloudNativeCon and a wonderful year with a celebration that will take over San Diego's famed Gaslamp Quarter. The evening will be filled with music, lights, entertainment, food, and fun spilling from dozens of restaurants into the streets.
Interested in an alcohol-free environment? Head to Jolt'n Joe's where we will have snacks and zero-proof beverages for all ages!
The Gaslamp Quarter is just a hop, skip and a jump across the street from the San Diego Convention Center – you won't be able to miss us! See you there!
Interested in bringing a guest? You can add a guest ticket to your registration for $140. All Attendee Party guests will not receive a conference registration badge but can pick up their party credentials on Wednesday at the Convention Center.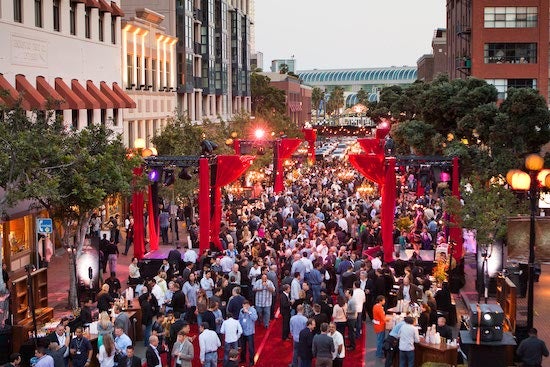 Date: Thursday, November 21
Morning Session: 7:45 – 8:45 am | Afternoon Session: 3:15 – 4:30 pm
Location: Room 3 at the San Diego Convention Center
The community collectively has an immense depth of knowledge and expertise which we can explore and learn from at this collaborative event. Whether you're new, or not so new, to open source and the cloud native community, we invite you to register to attend the KubeCon Networking + Mentoring Session. You'll have the chance to meet with experienced open source veterans across many CNCF projects. You will be paired with two other people in a pod like setting to explore technical and community questions together.
Sign Up to Be A Mentee
Are you part of a SIG? An ambassador of a cloud native project and want to help others with using or contributing to your project? Are you a code committer? An issue opener? A documentation writer? We're looking for mentors of all backgrounds and experience levels (including new folks!) across the entire ecosystem with technical, community, and career experience to sign up for one or both sessions. Even if you're a new comer, if you've even successfully navigated the PR process you have skills and insights to share! We will provide you with FAQs of attendees upfront so you know what to expect. Sign up here to be a mentor and help hundreds.
Sign Up to Be A Mentor
Before contacting us, please review all event pages as answers to many questions are readily available throughout this site. If you cannot find the answer to your question and would prefer to email us, please contact events@cncf.io.
Stay Connected With Our Newsletter
Sign up to be kept up-to-date on the latest developments around KubeCon + CloudNativeCon, like keynote announcements, important schedule and event notifications, exclusive offsite activities, and more.