 Overlooking Elbe River and the famous Church of Our Lady, Hilton Dresden is ideally located in the heart of this historic city.
We have negotiated discounted conference room rates. Guest rooms are available at the following rates.
Single: €129,00
Double: €154,00
The discounted room rate includes breakfast at a nominal cost of €12,00, W-LAN internet access and VAT tax. The group rate is also offered three (3) days pre- and post-event and is only available through Tuesday, October 2. Be sure to book early as the block could sell out.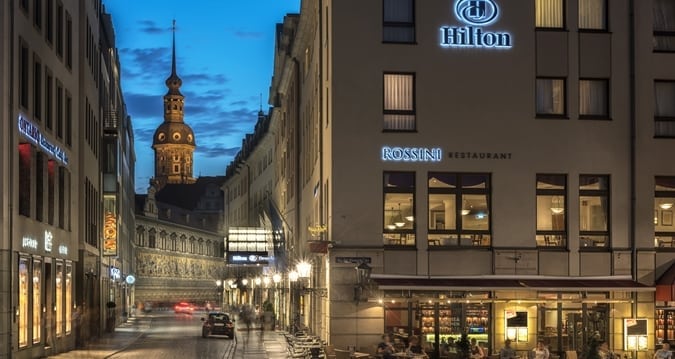 Important: The Linux Foundation will never reach out to attendees by phone to make hotel reservations for our conferences. Please be advised that the most secure way to book in our discounted room block is by using the direct booking like provided above, or by calling the hotel directly. If you do receive a phone call from someone claiming to be with The Linux Foundation or the hotel and they attempt to sell you a hotel room, please email us at events@automotivelinux.org.
If you have any questions related to the room block or conference hotel, please email the events team at events@automotivelinux.org.
Getting to Hilton Dresden
Airport Information
From Dresden International Airport (DRS)
Distance from Hotel: 10 km
Drive Time: 20 minutes
Taxi: Approximately €20,00
For more information on the hotel location and travel click here.
Hilton Dresden Parking
Self-parking is available for €23,00 per day. There is no valet parking
Public Transportation
Bus, Rail, and Tram are all available to get to Hilton Dresden for a minimum charge of €2,30/person for a single trip. Please refer to the hotel website for helpful information on public transportation in and around the city.